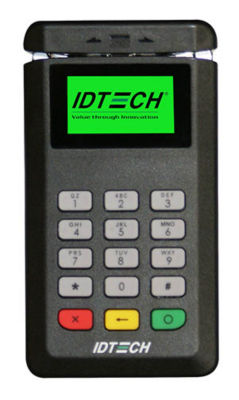 ID Tech BTPay Terminals Extended Catalog Parts
The ID TECH BTPay 200 is a secure payment terminal with an integrated MagStripe reader, smart card reader, and PIN pad that connects to mobile devices and PCs via Bluetooth. The BTPay 200 is a PCI 3.x certified and EMV Level 2 certified payment terminal that provides safe and secure transactions.
Go back to ID Tech Product List
Part Number
Description
Price
SPTE-378-33-1NN0N-0C8
Encryption MSR Insert, USB KB, 3track

$111.12

Add to Cart
SPT3-355-331NN0N-0C
Spectrum III Single Head MOIR

$120.69

Add to Cart
IDMR-PBT81133TEB
BTPay 200 Payment Terminal (Bluetooth, MSR, Chip and PIN, Track 1, 2, and 3)

$253.01

Add to Cart
IDT-IDMR-PBT81133TEB
BTPay 200, Bluetooth, MSR, Chip & PIN, T

$258.45

Add to Cart
Additional parts for the ID Tech BTPay Terminals.