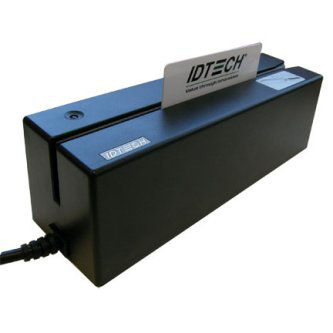 IDTech EconoWriter Rdr./Wrtr. Extended Catalog Parts
EconoWrtiter encodes and reads, ISO, AAMVA, User Custom, and Raw-Data card formats. It writes (encodes data), reads the data, and then verifies the encoding for up to three tracks in a single cards swipe. Econowriter writes/reads only low coercivity cards and comes with a utility software called Workshop, a Windows software application that makes the reading and writing process quick, easy, and verifiable. Workshop is a PC application that operates in Windows XP or 2000. The deep card slot with low head force design ensures smooth and easy card swipes. The card motion tachometer has the highest resolution in the industry. These mechanical features are not available in other products; all of them provide stability, reliability, and the accuracy required for ISO/IEC 7811 standards in the card writing process.
Go back to ID Tech Product List
Part Number
Description
Price
IDWA-332133B
EconoWriter Tracks 1, 2, and 3 RS232 black Plastic housing (black)

$577.32

Add to Cart
IDWA-332312
EzWriter Card Reader-Writer (Tracks 1 and 2, RS232 and Hi-Low) - Color: White

$611.28

Add to Cart
IDWA-336133B
EconoWriter Reader-Writer (USB/RS232, 3-Track, LOCO - Low Coercivity Only) - Color: Black

$730.14

Add to Cart
Additional parts for the IDTech EconoWriter Rdr./Wrtr..