POSGuys.com Clover for Resturant
The pictures shown are general images for product Clover for Resturant and may not be applicable to all part numbers
Buy it now
Manufacture Support
No Returns
Clover for Resturant Features
Monthly
Clover for Resturant
Clover for Restaurant point of sale system gives you the power to run your entire restaurant on a single platform. Create table maps and menus with ease. Manage employees, track inventory, and generate reports all from a simple, easy-to-use interface.
Keep Front & Back of House in Sync
Map your tables: Build your floor plan to manage guest orders and ticket times by table."
Help servers shine: Create menu items, categories and revenue classes that help servers accurately place orders and increase check sizes.
Cater to guests: Customize orders with modifiers like "extra cheese" or "sauce on the side" while linking the right orders to the right guests.
Deliver seamless service: Course out orders and fire when desired, or fire together and let the kitchen pace the meal.
Flexible Payments for Seamless Service
Take every kind of payment: Clover Virtual Terminal lets you take payments and make refunds over the phone, by email or by mail—no device necessary. Accept credit, debit, and gift cards, as well as NFC and mobile payments. You can also set up automatic tax rates to be applied to all your sales.
WiFi not required: Wireless network down? All Clover systems can accept payments while the Internet is down and then process those transactions when connectivity returns, so your business is always on.
No limitations, no conditions, no hassle: Split the bill the way your guests desire: by guest, item or custom amount.
Keep the bar humming: Credit and debit card pre-authorization with a bar POS simplifies operations and improves the guest experience.
Online Ordering Means More Sales
Prepare to sell more :Grubhub, DoorDash, and Order with Google integrations help you show up in more places and take more orders.
Keep it simple: Manage your dine-in, online, takeout and 3rd party orders all from one restaurant POS; and get your menu online without having to build your own website.
Sell more and save more: Clover Online Ordering is included FREE with your Table Service plan. And no additional subscription fees, either.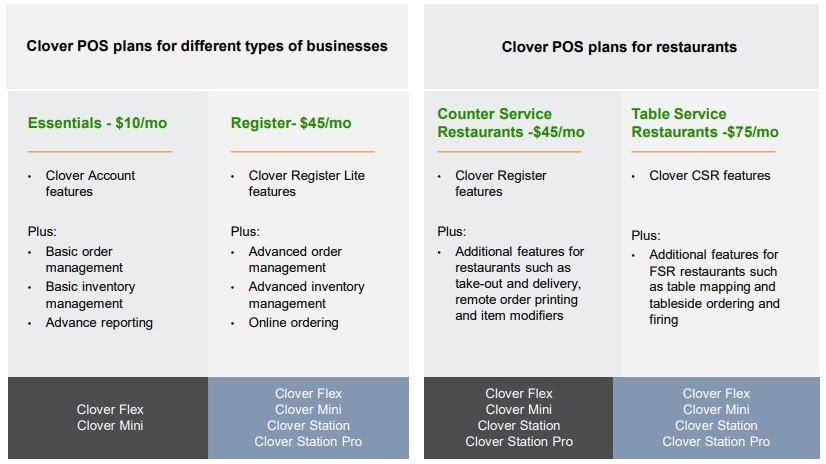 Before a hardware order can be fulfilled, you'll need to apply for a Clover Merchant Account using this form. If you order before completing this form, a POSGuys Sales Engineer will contact you after purchase.
POSGuys.com Clover for Resturant Reviews
Customer Reviews