Upgrading To A Tablet Based POS System? Read Our Guide To Doing In Right
Learn how to deploy retail tablets into your store and maximize their ability to save you time and money. This free 11-page guide provides small & medium-sized business owners expert insights on what to consider and avoid when making the switch to a mobile-focused approach.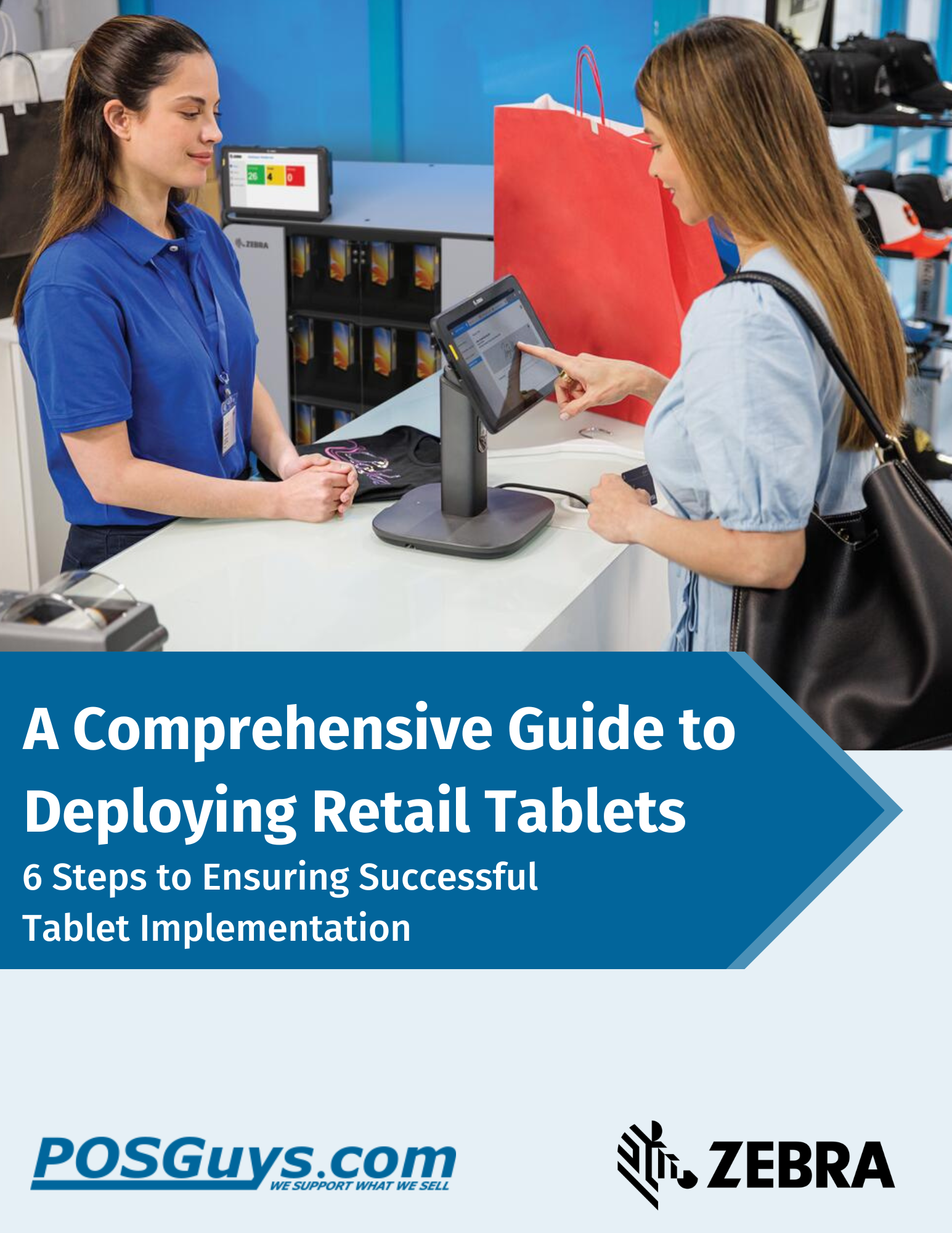 3 Ways Business Owners Save Money With Rugged Tablets
Smaller retail chains and independent stores are facing many challenges right now, particularly in keeping stores staffed and providing outstanding customer service on a budget.
This is where some smart technology strategies can help you get more done with limited staff and to help provide superior service at less cost.
One way you can do this is by investing in retail tablet POS technologies that will consolidate, digitize, and automate your retail workflows through a single piece of hardware. Integrating these solutions in the right places in your store operations can help your existing staff serve more customers more efficiently, while reducing your overall labor needs. Plus, it can do all this while saving you money by reducing the number of devices you need to buy and reducing your long-term hardware costs.
1. Provide Faster and More Efficient Checkouts
No customer likes to wait in line to make a purchase. And the traditional checkouts we've always used can often slow down the process. Additionally, traditional checkout stations are typically bulky and they take up counter and floor space.
This is where a tablet-based POS checkout can be a huge advantage. We've seen some of our more forward-thinking customers replace permanent checkout counters with mobile tablet-based solutions that allow their staff to move between service counters, the sales floor, or even the curbside to provide checkouts and service wherever they need to meet customers. Others are using tablets to help with e-commerce as well, using a mobilized point of sale to process in-store pickups, curbside pickups, and in-store returns for online orders, all from a single device that can be used wherever staff needs to meet customers.
Tablets can also be integrated with payment systems and technologies to seamlessly accept payment cards and create a customer-facing payment process that helps move things along quickly. As an added benefit, a tablet-based checkout consumes far less space and is often less expensive, since the required hardware is far less bulky, and there is often less of it to buy and maintain. Many POS applications nowadays have options to email customers receipts if they want one, which can potentially cut down on another common hardware expense. If a customer does need a receipt, however, there are mobile receipt printers that can be carried by your staff using a belt clip or shoulder strap.
By equipping your store staff with a tablet that runs your point of sale for checkouts, inventory lookups, and order management, you can provide customer service and seamless checkouts wherever they need to take place. Imagine how much labor you can save in a year by cutting out the extra 30 seconds it takes for an employee to walk to a traditional POS terminal in your store? Over the course of a day it might not seem like much but when you add up the thousands of trips they'll make in a year, the extra productivity adds up. Plus, it'll make for a better customer experience all around. And isn't that a value all to itself?
By consolidating workflows and allowing staff members to perform multiple functions and switch seamlessly between them, this helps alleviate the pains of labor shortages and helps stores accomplish more with their existing staff, in smarter and more efficient ways.
2. Create Self-Service Solutions
If you're short-staffed, you might not have enough workers to man your checkouts and handle rushes. Or you might not have extra staff available to provide customer service on the sales floor and help customers find the right products in the right colors, sizes, styles, or options. Even if you have extra staff you can call to the front of the store to handle the extra demand, that can take them away from merchandising, inventory management and other work they need to get done in store aisles or in the back room.
This is another area where tablets can be extremely useful and can help save labor and cost.
You can use tablet technologies to create self-service checkouts that allow customers to scan their purchases, process payments, and quickly get on their way, without having to rely on a cashier. You can also use tablets to set up self-service kiosks that allow customers to search for products and available options, see what's in stock and what they can order for later pickup or delivery, and even place e-commerce orders without having to track down or wait for a staff member to assist them.
In turn, this helps minimize some of your labor needs and keep your staff focused on other business-critical tasks while you still provide customers with helpful and convenient checkouts and service.
Want to learn how our customers have used tablets to transform their retail operation? We pulled together a whitepaper talking about the best practices for deploying tablets in a retail enviroment that you can download.
3. Reduce Your Hardware Needs and Total Cost of Ownership
Retail tablets are a great way to reduce your overall store hardware needs and costs. But you need to be mindful when picking which tablet to use because not all tablets are built alike. When picking a device to use for your tablet pos system, it's best practice to pick something that's rugged and made for a commercial application. A rugged commercial tablet might cost a little more to start out, but they can save you money in the long-term and provide a bunch of features that help your employee's use them more efficiently.
For example, let's compare a consumer Android tablet with a rugged retail-built tablet like Zebra's ET4x series. An ET40 using an octa-core Qualcomm Snapdragon processor with 8GM of RAM and 128GB of flash memory will run you about $700 while a consumer tablet with similar specs will cost you about $300. That might seem like a lot at face value, but consider the following:
Tablets like the ET4x series tablets are equipped with an barcode scanner built directly into the device. This will eliminate the need to buy separate barcode scanners or third-party scanning sled. If you need to attach a scanner sled to a consumer tablet, you're going to increase overall cost and add bulk and weight. If you choose to use a separate barcode scanner, now your employees need to keep track of a whole new piece of equipment. Using a tablet with an integrated scanner like the ET40 cuts out all of this extra work. And because the ET4x has features like Zebra's WorkforceConnect software, built-in push-to-talk button, and hi-res cameras, you can also use ET4x tablets to access secure texting, real-time workforce communications, photos, video calls, and even your PBX phone lines. With that, you can cut out the need to purchase a separate device for employees to communicate with. Those two facts alone can bridge the gap in price.
Another big differentiator is rugged tablets like ET4x tablets are more durable. Consumer Android tablets are not designed for heavy-duty use, and may not hold up well to the wear and tear of a busy retail or hospitality environment. A rugged Android tablet like the ET4x, on the other hand, is specifically built with high concrete drop and tumble specs, IP65 rated sealing against dust, dirt and liquid spills, and Corning Gorilla Glass displays for shatter and scratch resistance. You would need to buy separate boots for consumer items to get close to the same ruggedabilty and those add-ons might not be compatible with things like snap-on scanners and payment devices. By the time you buy all those accessories, you might as well have just purchased a purpose-built device that has all the bells and whistles from the start. Sure, you could forgo a rugged boot all together and save the money up-front, but all it takes is one employee not paying attention one time and breaking the device by dropping it to nullify any cost saving.
Regular Android tablets may not have the same level of support options as rugged Android tablets, which can be a problem if the system experiences technical issues, especially if you're using them for your POS applications. Rugged-tablet manufacturers like Zebra offer specialized support and repair services for their devices, which can minimize downtime and reduce total cost of ownership. Zebra's optional OneCare Essential and Select support services, for example, are available for a full six years from the initial date of sale and those contracts can cover the repair cost for a new device.
To learn more about how you can use a tablet POS system to save labor and cost in your retail stores, download our free whitepaper or connect with our team. As long-time experts in retail point of sale and operational technologies, we're happy to answer any questions and provide free professional recommendations to point you in the right direction.
Explore our Rugged Tablet Options
Industry Experts
We've been in the industry for over 20 years.
Lifetime Hardware Support
Never worry about long downtimes.
Sales with Integrity
We put people over profit. No tricks. No hidden fees.