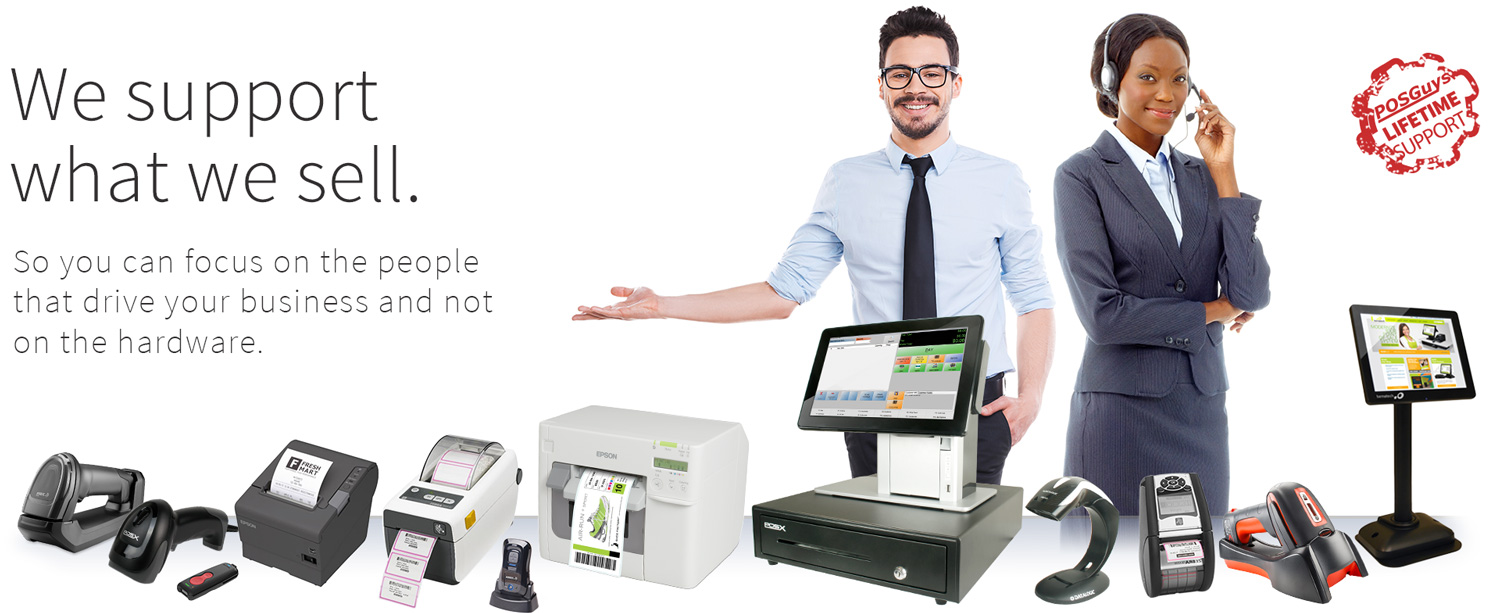 POSGuys Support
POSGuys.com wants to make sure your point of sale hardware integrates well into your business and provides you with years of excellent service. As such, we offer phone and virtual support as well as on-site installation and repair to United States-based customers. From barcode scanner configuration to wireless receipt printer installation, our tech support team has you covered.
Contact Us
Hours: M-F 7:30am - 4:00pm PST
Phone: 800-903-6571
E-Mail: [email protected]
Chat: Live Chat with Support!
(Requires installation of Heartbeat RM remote support tool)
---
Phone & Email Support
POSGuys.com is reinventing the way you think about phone support! Service, value, and protection come with every POS product. Get an immediate response with little or no wait times with POSGuys.com's Free phone and e-mail support.
We offer solutions for:
Configuration Questions
Usability Questions
Compatibility Issues
Product Defects
Product Drivers & Manuals
Software Updates
Manufacturer Contact
Contact Us @ 800-903-6571; or

[email protected]
Didn't order your hardware from POSGuys.com and still need help?
Please, don't hesitate to call. For a small fee (see details in the links below), we can attempt to solve your tech support needs.
For Scanner Help
For Printer Help
For Cash Drawer Help
---
Virtual Support
With high-speed Internet, our Free Virtual On-Site Support gets you back to business in a snap! Our Help Desk team utilizes secure remote login software to establish a remote connection directly to your PC. It's as if a help desk specialist were sitting right at your desk!
With Virtual On-Site Support, POSGuys.com can:
Diagnose Your Problem
Resolve Configuration Issues
Resolve Compatibility Issues
Answer Usability Questions
Contact Us @ 800-903-6571 or

[email protected]
(Requires installation of Heartbeat RM remote support tool)
---
On-site Installation
With our nationwide On-Site Installation Services, hit the ground running with your new POSGuys.com Complete Retail or Restaurant System. We can have you up and running out-of-the-box! Purchase an installation option when you place your order, and our Customer Care team will call to schedule your installation at your convenience.
See product descriptions for options and pricing or contact our expert POS support team M-F 7:30 a.m.–4:00 p.m. PST.
---
On-site Repair
Experience the ultimate in service and peace of mind for your POSGuys.com Complete Retail or Restaurant System with nationwide On Site POS Repair Services from POSGuys.com! When you've got a hardware failure, we've got you covered with:
10:00 a.m. Overnight Spare Replacement with On-Site Service
Hourly Per-incident On-Site Support
Contact Us @ 800-903-6571 or

[email protected]
---
POSGuys.com Technical Support Terms & Conditions
Help Desk Services only support products purchased through POSGuys.com
If we are unable to resolve an issue, we will provide the customer with contact information for the product's manufacturer.
Not all accessories offer the same support as their related products. Please call for support policies on accessories.
While we strive to help each and every one of our valued customers, it is not always possible to resolve all issues. We reserve the right to refuse support to those determined to be abusive, uncooperative, or who have unrealistic expectations.
Help Desk Support is not available for all products. See individual product description for details. In all cases, POSGuys.com Help Desk support does not imply any additional product warranty. All warranty & faulty product related issues beyond the standard DOA period will be directly handled by the product manufacturer. POSGuys.com is not responsible for individual manufacturers' warranty policies.
The customer is responsible for their own system backup and recovery practices.
On-Site POS Installation Terms & Conditions:
On-Site POS Installation is limited to POSGuys.com Complete Retail Restaurant Systems.
On-Site POS Installation requires the purchase of an On-Site Installation Service option at the time of system purchase.
On-Site POS Installation does not include training.
On-Site Installation may not be available in all areas. Please contact a POSGuys.com Sales Representative to find out if your area is covered.
Phone Support Levels
Lifetime support covers eligible products for their lifespan, including setup and basic troubleshooting
Limited support only covers basic installation
Software support may have phone coverage for a set number of days, to help with initial setup and training. Additional support may be purchased in yearly contracts.