Are You Keeping Up With Today's Shoppers?
Where We Got Our Information
Every year Zebra Technologies commissions a study looking at how shoppers, decision-makers, and employees feel about emerging retail technology and changes in the retail industry. Over 4,200 participants from around the world responded to this year's study. We've highlighted statistics and trends we feel are important for decision makers to consider when they plan to invest in new technology.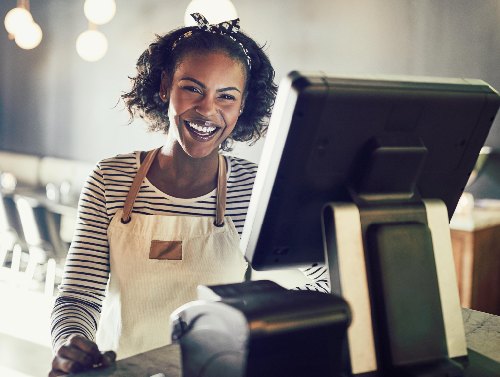 Key Insights from Global Shopper Survey
Insight 1: Investing in Mobile Technology Can Make it Easier to Retain & Better Utilize Talent
Retail associates serve as a crucial link between retailers and shoppers. However, retailers are struggling to hire and retain workers in a competitive hiring market. Approximately 80% of associates believe stores that utilize technology and mobile devices have an advantage in attracting and retaining workers. Furthermore, 78% of associates feel more valued by their employers when they are provided with technological tools that assist them in their work.
While competitive pay and benefits are the primary factors influencing workforce retention — accounting for 55% of the reasons — work-life balance and flexibility (52%) and opportunities for upskilling or career advancement (45%) closely follow. Moreover, an overwhelming 84% of decision-makers believe that technology plays a crucial role in attracting, training, and retaining exceptional employees.
Insight 2: Shoppers & Associates Believe Mobile Computers Create a Better Customer Experience
Shoppers have certain expectations when it comes to store staff being equipped with technology that can efficiently assist them in finding the items they need. However, the actual experience of locating specific items on store floors often falls short of the satisfaction level anticipated by decision-makers.
According to the study, 67% of associates express growing concern that shoppers have better access to information than they do. This figure reflects an increase of 8% from the previous year's survey.
Insight 3: Self Service Captures Market Share
After experiencing self-service technology, shoppers tend to develop a stronger affinity for these solutions and are more likely to continue using them. According to the survey, seven out of 10 shoppers said self-serve options contribute to enhanced satisfaction. Approximately half of shoppers utilized self-checkout services, while about one-third opted for in-store order pickups, and nearly four in 10 made use of cashless payment methods. In contrast, traditional registers operated by associates have experienced a significant decline in preference. Only 55% of shoppers favored traditional registers when making purchasing — a decrease of 20 percentage points compared to survey results in 2019.
Many decision-makers now perceive manned registers as less necessary. In fact, 45% of decision-makers are planning to convert more cash register space into self-checkout areas and 43% are allocating space for contactless checkout. Retailers who have already made this shift report that with this transition, they have been able to move associates towards more valuable tasks: primarily focusing on assisting customers on the floor.
Insight 4: Shoppers See Less Distinction Between Brick & Mortar and E-Commerce
In the post-pandemic era, an increased reliance on e-commerce and contactless payment are here to stay. Shoppers now expect a seamless experience regardless of how they choose to shop and retailers need to adapt and keep up with these changing expectations.
Shoppers are more likely than ever to use a retailer's website or mobile app prior to visiting the store. Of shoppers surveyed, 50% said they used a store's website to research product prices and compared those prices with competitors before visiting a store. 34% used a website/app to check product availability before visiting the physical store.
But making the jump towards a more sophisticated e-commerce presense comes with it's own set of challenges. The need for better inventory managmeent is perhaps the biggest adjustment. That point is discussed more below. Developing a better system for returns is another key struggle. During the study, shoppers were asked to report their overall satisfaction level with store return processes. Retail decision makers were asked to report on what they felt shopper satisfaction was. While shoppers reported a satisfaction rate of 62%, decision makers reported an 80% rate - 29% higher than what shoppers actually reported.
Insight 5: Better Inventory & Supply Chain Visibility Is Top of Mind
A majority of associates, around 80%, believe having greater visibility of inventory would be highly advantageous. This enhanced visibility would not only accelerate in-store order fulfillment but also ensure more shoppers are able to leave the store with the items they intended to purchase.
Among the shoppers who left a store without the items they wanted, nearly half of them cited the reason being that the specific item they were looking for was out of stock. This represents a significant increase of 26% since 2019. This reality reflects itself in employee frustrations: 43% said their biggest frustration was out-of-stock complaints from shoppers.
Because of this, 79% of retail decision-makers say their organization needs to invest in better inventory management tools, and 43% say they are investing in safety stock or overbuying to get ahead of out-of-stocks.
Get the Full Report
The World Has Changed - Have Retailers? Zebra Technology's 15th Annual Global Shopper Study
Who We Are
POSGuys is a leading provider of hardware & software solutions provider in the point of sale, warehouse, and logistics space. Over 20 years of operation, we've helped 200k+ customers find solutions to the challenges facing their businesses.
"The professionalism, and dignity that I am treated with when placing an order, makes it easy for me to want to experience that over and over. Let's be real, I could go to Amazon, and do for a lot of things. However, these guys stand behind their word, and in my book that is worth supporting wholeheartedly. Keep up the good work!"
Sarah
PlasticPrinters.com