How to Build an Asset Tracking System That Saves You Time & Money
Tired of keeping track of assets using paper or an Excel document?
These systems can be time-consuming and prone to human error. Moving to a modern digital asset management system can save you time and money! It does this by pulling all your equipment into a single user-friendly platform that's easy to search. This makes it easier for workers to find the equipment they need and minimizes unnecessary purchases and equipment downtime.
An asset tracking system starts with choosing the right software.
Good software will assign each asset a unique number. It will be able to tell you where that asset is and who's using it. Finally, your software should be able to tell you what sort of maintenance has been done on that item if it's applicable. POSGuys has developed our software called Scan in Scan Out, which does both of these things, but there's tons of other great software on the market.
Don't forget the hardware.
It's best practice to label each asset with an appropriately-rugged label for easy identification. A computer in an office requires a far less durable label than one used on a power tool in a construction site. Special "thermal transfer" label printers are needed to print extremely durable labels. Putting a barcode on your label and using a barcode scanner is the quickest way to read these labels. Our barcode scanner guide can help you find the scanner that best meets your needs. If you're using a browser-based or Android software, there are mobile computers with built-in scanners that can really speed up your process.
Not sure where to start? Let us do the work for you.
Our team of sales engineers can help you build a custom solution that meets your needs and budget. All our equipment comes with free lifetime technical support based here in the USA, so you can be confident knowing you'll always have someone on your side.
Want to Make it Easy? Try a Pre-Built Kit!
Mobile Asset Tracking Kit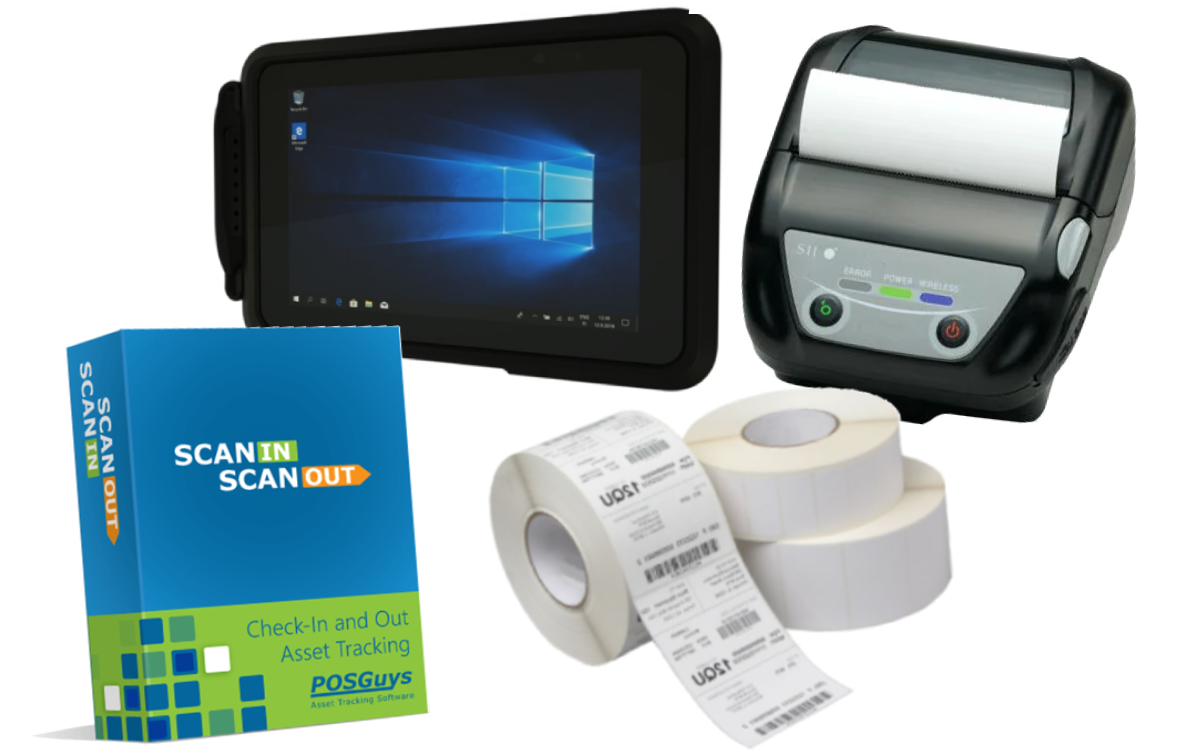 Everything you need to manage assets anywhere in your business.
• 1 License of Scan In Scan Out Software
• Rugged Windows Tablet with an Integrated Scanner
• 3" Bluetooth Label Printer
• A Roll of Labels to Get You Started
• FREE Lifetime Hardware Support & 1-Year Software Support
Fixed-Asset Tracking Kit
A Simple Kit for Simple Tracking - Everything you Need to Get Started.
• 1 License of Scan In Scan Out Software
• 4" USB Label Printer with a Roll of Starter Labels
• 2D Barcode Scanner
• 15" Windows Touch Computer i3/4GB RAM (Optional Add-On)
• FREE Lifetime Hardware Support & 1-Year Software Support
Industry Experts
We've been in the industry for over 20 years.
Lifetime Hardware Support
Never worry about long downtimes.
Sales with Integrity
We put people over profit. No tricks. No hidden fees.
Not sure where to start? We're a call or email away!